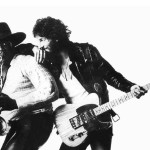 According to a source close to the big man, legendary saxophonist with the E Street Band and many other projects, has died at the age of 69.
He had suffered a stroke in recent weeks and was reported as recovering.
It's impossible to sum up a substantive career like Clemons' with a few words or videos, but here's a selection that sums up the man.

Playing the US National Anthem only two and a half months ago:
Performing on the 2011 American Idol with Lady Gaga:

A 1980s appearance on the Letterman show:
1980s solo hit in conjunction with Jackson Browne:

Bruce Springsteen introduces Clemons on London Leg of a recent tour:
The E-Street Band in full flight in Barcelona:
We'd love to hear about your own favourite memories, so start sharing. Also, check out the brilliant tribute over at Backstreets.